Wheelchair accessible picnic tables.
Premier Poly steel wheelchair accessible picnic tables have the strength and stability of our standard models. The free-standing model features an easy by walking and non-omvallend design. In addition, most models a umbrella opening. Also the Premier Poly steel wheelchair accessible picnic tables are fully coated with plastisol (PVC). This coating promises durability and is a striking addition to any location. Because of the coating they will not rust. Plus, you don't have to paint them never! We use worldwide approved, UV-stable and mildew resistant plastisol. That is why the Premier Poly steel furniture in every climate a years long existence. Similarly, the heavy picnic tables designed to be especially stable. As a result, no sagging benches and table tops! Also will be a Premier Poly steel picnic tables not tip over the Champion wheelchair accessible picnic table is available with the coated expanded metal and perforated steel chairs and table top. The standard 2, 44 m long wheelchair accessible picnic table has 6 seats. Most importantly, there is up to each end space for wheelchair users. Available in the lengths 2.44 metres and 3.05 meters.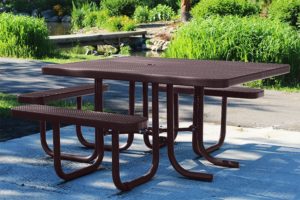 The above wheelchair accessible picnic tables is new. There is more leg space and sufficient other seats.
For a complete list of all accessible tables click on the link below.